Uttar Pradesh Subordinate Services Selection Commission has released the upsssc forest guard syllabus 2019 for 2019 Exam. the candidates who have applied for this post can view & download the new syllabus here.
Finally, The UPSSSC has set the exam dates for the Forest / Wildlife Guard Examination 2019. So the candidates who have applied for this exam. should understand this syllabus and exam pattern very well for better preparation of the upsssc forest / Wildlife guard exam 2019.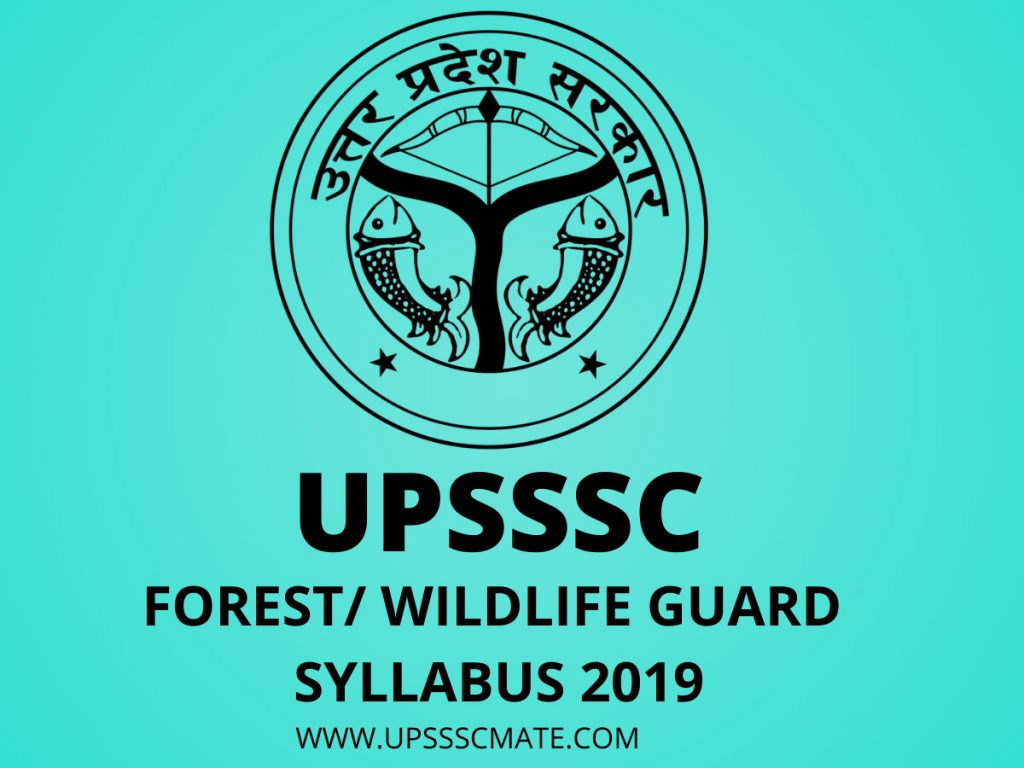 UPSSSC Forest Guard Syllabus & Pattern
Therefore, UPSSSC has set the examination plan and syllabus for written examination for the posts of forest guard and wildlife guard under the Forest Guard and Wildlife Guard Examination – 2019, whose details are as follows.
| | |
| --- | --- |
| Type of Exam | Objective Type Written Exam |
| Max. Marks | 200 |
| Negative Marking | 1/4 Marks |
UPSSSC Forest Guard Written Exam Pattern:
Part
Subject
No.of
Question
Total
Marks
Time
Duration
Part-I
General
Hindi
80
80
2.00
Part-II
General
Intelligence
Test
60
60
Hr.
Part-III
General
Knowledge
60
60
30
Total
200
200
Minutes
Note – There is also a provision of 1/4 Negative marking for each wrong answer.
UPSSSC Forest Guard Syllabus :
Hindi Knowledge and Writing Ability: (हिन्दी परिज्ञान एवं लेखन योग्यता)
In this section, questions related to knowledge and understanding of Hindi language and writing ability are asked from the candidates. This question paper will be of the level of intermediate examination or equivalent examination of Uttar Pradesh Secondary Education Council.
General Information: (सामान्य अध्ययन)
In this section, questions are asked from the candidates for general information regarding the environment around it and to assess its ability in relation to its use in society. In which questions related to current events, daily sight-seeing and experience-related facts, especially related to historical and geographical facts related to India, knowledge of scientific aspects, forest environment climate, will also be asked.
General Intelligence Test: (सामान्य बुद्धिमत्ता परीक्षण)
The questions asked in this section are aimed at understanding a new situation, analyzing its various elements and measuring its ability to identify and reason. In this section, such questions are also asked, which understand the instructions, draw conclusions and are related to intellectual actions.
UPSSSC Forest Guard Syllabus PDF
यूपीएसएसएसएसी फारेस्ट/वाइल्डलाइफ गार्ड सिलेबस पीडीएफ डाउनलोड करने के लिए नीचे दिये गये लिंक पर क्लिक करें।
फारेस्ट गार्ड परीक्षा से सम्बन्धित अन्य जानकारी के लिए यहाँ पर क्लिक करें।
Read More…..