Hello Friends! in this article we will discuss the Upsssc Lower PCS (Lower Subordinate) Mains Syllabus for the best preparation of the Upsssc Lower PCS/Subordinate Mains Exam 2022.
UPSSSC conducts the Lower Subordinate | PCS Exam in three phases, in which the first phase is of the pre-exam, the second phase is on the mains exam and the third phase is a personal interview.
It is a highly prestigious & also one of the toughest exams of Upsssc. the commission had conducted Lower PCS| Subordinate exam on 30 September and 01 October 2019 respectively in different shifts. According to an estimated data, about 12 lakh candidates took this exam at various exam centers in Uttar Pradesh.
UPSSSC Lower PCS Best Books List
Recently, Upsssc had issued the lower pcs result on 26 June 2021 and a total no. of 15335 candidates qualify for 672 posts. now, these candidates are waiting for the Mains Exam Syllabus & Admit Card. So, here I will explain UPSSSC Lower PCS Mains Syllabus for the best preparation of the upcoming Lower PCS Mains Exam.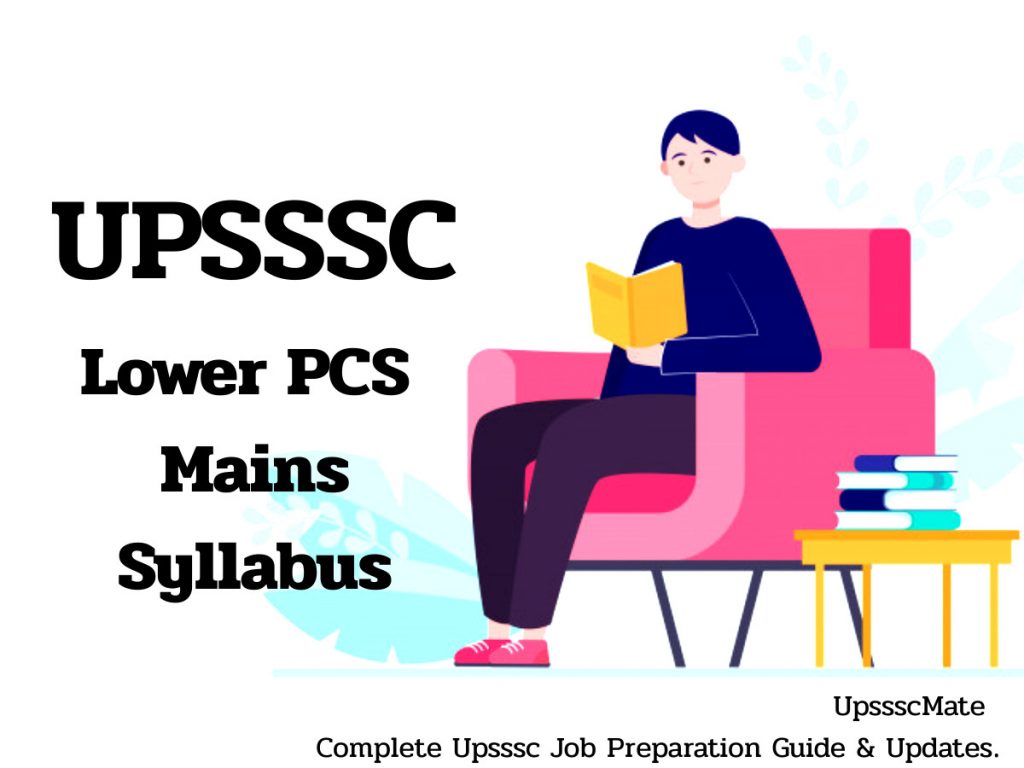 UPSSSC Lower PCS | Subordinate Mains Syllabus 2022
UPSSSC Lower PCS Mains Exam divides into 2 papers. The first question paper consists of 2 parts general intelligence test and general knowledge, In which 25 questions on the general knowledge test and 75 questions of general knowledge will ask. Similarly, the second question paper also contains 2 parts of general science/arithmetic and general Hindi. A total of 75 questions of General Science / Arithmetic and 25 questions about General Hindi will ask. A time of 1 hour 30 minutes has been set for each question paper. There is also a provision for 2 marks for all questions and negative marking for wrong answers in this exam.
General Hindi
History of Hindi literature
Development of Hindi Language
Major national language movement
Major Bids and Classification
Status of Hindi language in the Indian constitution
Major Institutions and Commissions related to the development of Official Language
Devnagari script
Alphabets
Prefixes and Suffixes
Synonyms and Antonyms
Proverbs and Idioms
Joint & Compound
Word power
Rus, Verses, & Decking
Noun, Pronoun, Adjective, Adverb, Indeclinable & Nipat
Gender, Numbers, Speech, factor, Tense & Sentence
Letter writing
Punctuation marks
Major poets & their compositions
General Intelligence
Coding-Decoding
Directions
Alphabet Series
Arithmetical Reasoning
Number Ranking
Analogy
Number Series
Blood Relations
Cubes and Dice
Decision Making
Non-Verbal
Series
Embedded Figures
Clocks & Calendars
Mirror Images
General Science/Arithmetic
Basics of Science
Number system
HCF & LCM
Percentage
Time, Speed & Distance
Van diagram
Average
Profit and loss
Compound & Simple Interest
Ratio & Proportion
Statistics
Work & Time
Fraction
Train
Simplication
Indices & Surds
Age Relation
Partnership
General Knowledge
History and independence movement of India
Indian Constitution and Polity
Geography of India and the world
Indian Economy, Economic, and Social Development
Major political, historical, geographical and economic matters related to Uttar Pradesh
National Sports and Awards
Current affairs
Important Inventions, Rules, and Experiments
National and International Day
Capital and currency of major countries
Important national schemes
Awards – National and International
Books & Authors
International and National Organizations
Current Ministers & Governors
Major Indian Festivals
Budget and Five Year Plans
Computer fundamentals
Miscellaneous
Final Words: I hope, UPSSSC Lower PCS Mains Syllabus 2022 is very beneficial for every lower pcs aspirant.
Read More……..
Thanks! for visiting here. please share this post & comment your questions regarding this post.