Hello Friends, In this article, we will discuss the UPPSC Helpline Number & UPPSC Full Form for any kind of inquiry related to UPPSC Exams.
UPPSC Full Form in Hindi & English
The Full form of UPPSC is "Uttar Pradesh Public Service Commission". It is called the "Uttar Pradesh Lok Seva Aayog. (उत्तर प्रदेश लोक सेवा आयोग)" in Hindi language. It is a state govt. organization or agency that conducts the Civil Services and Group A & B Level Exams at the state level in Uttar Pradesh. UPPSC is responsible for the appointment of several types of civil services posts in Uttar Pradesh. UPPSC came into existence on 1st April 1937. Uttar Pradesh Public Service Commission Regulation 1976 has regulated the commission.

The main purpose of the establishment of UPPSC is to recruit candidates for several types of govt. jobs in the state. It conducts all types of civil services examinations across the state and solely contributed to the recruitment process. UPPSC issued an application form, and admit card, conducts an examination, and declares the result for recruitment. UPPSC conducts mostly exams in three stages- Preliminary, Mains, and Interview. The candidates are eligible for different state posts in various sectors such as Revenue, Education, Police, Administration, Child Welfare, etc. after the selection.
UPPSC Helpline Number
UPPSC conducts many exams every year for the various posts of Uttar-Pradesh Government. Every year millions of aspirants appear at UPPSC exams, get government jobs, and fulfill their dreams.
But Sometimes these aspirants have to face many problems related to
the uppsc exams, fess payments, interviews, and joining letters. There are many problems come from online form-filling to joining letter. Then a question comes to the mind of every student that How can I contact UPPSC? or what is the UPPSC Contact Number For Enquiry?
So, to solve these problems of the aspirants, UPPSC has released its official address, email address, and phone number, and official website. on the other hand, students can find solutions for their problems by contact, email, or calling these addresses and phone numbers.
UPPSC Contact Number for Inquiry
UPPSC Helpline Number | UPPSC Contact Number | UPPSC Mobile Number
Commission
UPPSC
Official Email ID
online.uppsc@nic.in
For General
Inquiry (Prayagraj)
0532 – 2407547
For Online
Inquiry (Prayagraj)
+91 – 8765973668
Lucknow
+91 – 8765973766
UPPSC Office
Address
10, Kasturba Gandhi
Marg, Prayagraj
211018
Official Website
http://uppsc.up.nic.in/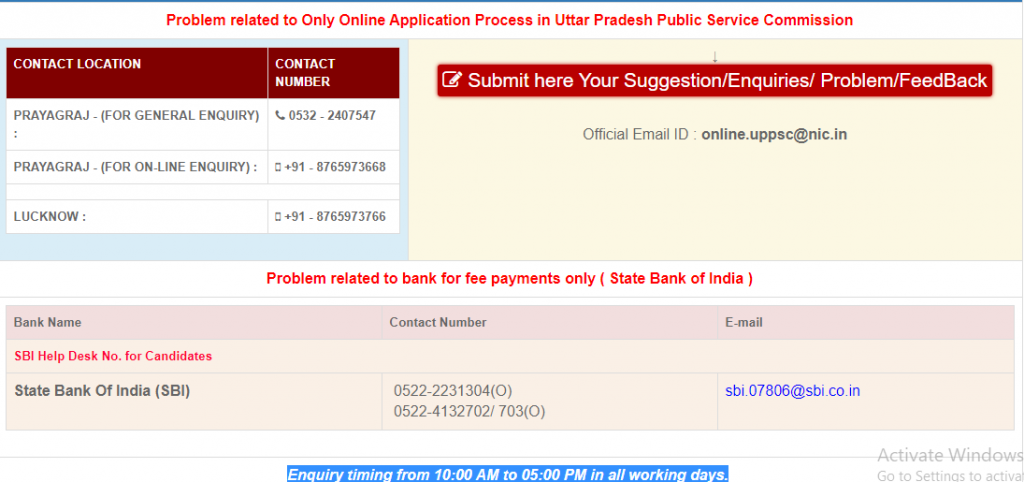 In short, UPPSC invites problems, suggestions, and feedback related to the online application process only. apart from this, the Uttar Pradesh Public Service Commission has given the bank's helpline Number to solve the online exam fee payment related problem of aspirants.
UPPSC Helpline Numbers for the problem, related to the bank for fee payments only
SBI Help Desk No. for Candidates
Bank Name
State Bank Of India (SBI)
E-mail
sbi.07806@sbi.co.in
Contact
Number
0522-2231304(O)
0522-4132702/ 703(O)
Note – Enquiry timing from 10:00 AM to 05:00 PM on all working days only.
Read: UPSSSC Contact Numbers | UPPSC Exam Calendar | UPPSC Exam List
Thanks! for visiting the UPPSC Helpline Number & UPPSC Full Form. Share UPPSC Contact Number with your friends and Comment your questions regarding this post in the comment box below.